GF-50 Mobile Dry Air Compressor
YUNENG GF-50 Series mobile type dry air compressor is designed to supply dry air.
The dry air keeps the power equipment's inner from moisture during maintenance.
The power equipment includes transformers, reactors, and other large power equipment.
The dry air compressor is a reliable, convenient, and economical system.
Share to
Parameters of GF-50 Mobile Dry Air Compressor
Item

Parameter

Unit

GF-50

GF-100

GF-150

GF-200

Technical Parameter

Flow

M

3

/h

50

100

150

200

Working Pressure

Mpa

0.6~0.8

Pressure Drop

Mpa

0.05

Noise

dB(A)

70

Working Power

KW

380V-50Hz 3 Phase 4 Wire

Total Power

KW

12

19

22

26

Size

Length

cm

215

215

230

230

Width

cm

155

155

165

165

Height

cm

230

230

230

230

Diameter

DN

32

40

50

50

Weight

Kg

900

980

1030

1050
The machine size and weight will change slightly due to different configurations
Principle of YUNENG GF-50 Mobile Dry Air Compressor
GF-50 series dry air compressor is mainly composed of an air compressor, refrigerator, adsorber, three-stage precision dry air filter, electronic control system, pressure reducing valve, and dew point meter.
After the compressed air enters the pre-cooler, it enters the centrifugal dewatering filter for the first water-gas separation and then enters the chiller for deep condensing and dehydration.
Most of the water is condensed into water, and the air is condensed and dehydrated for the second time. Then, enter the regenerative dry air filter, adsorb the remaining water, and absorb the dehydrated dry air into a 0.01μm high-precision filter to remove the particles and then transport it to the equipment that needs dry gas through the pressure regulator to ensure the transformer.
The insulation strength is not reduced by impurities. The dew point detector detects the air dew point and has an alarm when the air fails.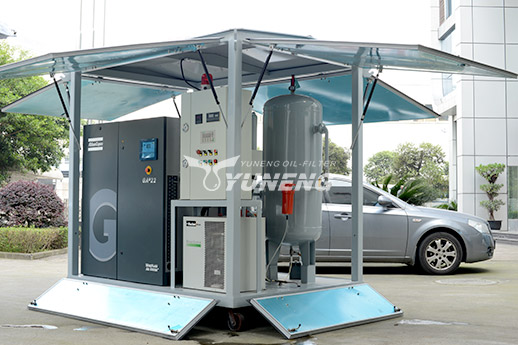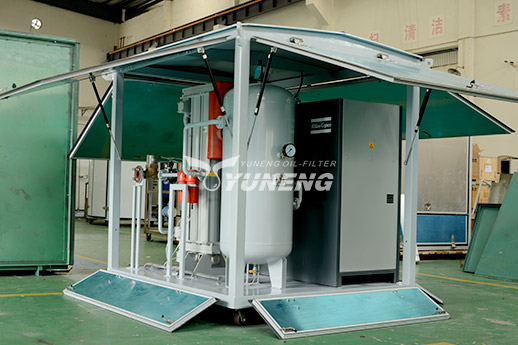 Applications of GF-50 Mobile Dry Air Compressor
The device is mainly used in the power system, warehouse, packaging, electronics, and other industries for air supply drying and circulating drying, replacing the traditional transformer hot oil circulation drying method.
It is suitable for the supply of dry air during the overhaul of large-scale power equipment such as transformers and reactors. The dry air provided ensures that the internal insulation of the power equipment will not be damp, and the maintenance personnel will not be deprived of oxygen when working inside the equipment. Safer than using nitrogen, reliable, economical, and convenient.
When using a dry air compressor for equipment maintenance, it can be protected from changes in external climatic conditions, especially during an overnight operation.
It only needs to seal all flanges and fill dry air 0.1- 0.3MPa. Without oil injection, transformers, reactors, etc., will not be damp, reducing the daily pumping and oiling workload, shortening the maintenance period, and improving the quality of maintenance. In the oil filtering process, the oiling equipment box and the oil can be inflated and dried to improve the oil filtering efficiency (more than doubled).
When filtering oil on rainy days can ensure the improvement of oil insulation and the reduction of moisture. It can be used as an indoor air conditioner in the workplace when it is idle.
After Treatment Index of GF-50 Mobile Type Dry Air Compressor
| | | |
| --- | --- | --- |
| Parameter | Unit | After Treatment Index |
| Discharge Pressure | Mpa | 0.02~0.03 |
| Dew Point | °C | -50°C ~ -70°C |
| Particle | μm | 0.01 |
| Oil content in air outlet | ppm | 0.01 |
Why Choose Us?
Our products have a one-year guarantee for producing high quality(People-damaged components are charged).
Our products have lifelong upkeep and spare parts supply.
We accept freely design customized products according to customer requirements.
We provide free training on equipment installation and operating procedures for your employees in need.
Packaging & Shipping
To be packed in iron or wooden case(s) for long-distance (ocean/air) transportation