GF Series Hot Dry Air Generator
YUNENG GF series hot dry air generator supplies dry air while maintaining the transformer.
The machine runs automatically and has a dew point of -50~-70℃.
You can choose different models of the dry air generator machine according to the treating capacity.
The treating capacity varies from 50m³/h to 480m³/h.
Share to
Parameters of YUNENG GF Series Hot Dry Air Generator
Item

Parameter

Unit

GF-50

GF-100

GF-150

GF-200

Technical Parameter

Flow

M

3

/h

50

100

150

200

Working Pressure

Mpa

0.6~0.8

Pressure Drop

Mpa

0.05

Noise

dB(A)

70

Working Power

KW

380V-50Hz 3 Phase 4 Wire

Total Power

KW

12

19

22

26

Size

Length

cm

215

215

230

230

Width

cm

155

155

165

165

Height

cm

230

230

230

230

Diameter

DN

32

40

50

50

Weight

Kg

900

980

1030

1050
The machine size and weight will change slightly due to different configurations.
Principles of YUNENG GF Series Hot Dry Air Generator
YUNENG GF series air dryer transformer is mainly composed of seven components: air compressor, refrigerator, adsorber, three-stage precision dry air filter, electronic control system, pressure reducing valve, and dew point meter.
After the compressed air enters the pre-cooler, it enters the centrifugal dewatering filter for the first water-gas separation.
Then, it enters the chiller for deep condensing and dehydration.
Most of the water is condensed into water, and the air is condensed and dehydrated for the second time.
Then, it enters the regenerative dry air filter to adsorb the remaining water.
The dehydrated dry air is then absorbed into a 0.01μm high-precision filter to remove the particles.
The air is then transported to the equipment that needs dry gas through the pressure regulator to ensure that the transformer insulation strength is not reduced by impurities.
The dew point detector detects the air dew point and has an alarm when the air fails.
After Treatment Index of GF Series Hot Dry Air Generator
| | | |
| --- | --- | --- |
| Parameter | Unit | After Treatment Index |
| Discharge Pressure | Mpa | 0.02~0.03 |
| Dew Point | °C | -50°C ~ -70°C |
| Particle | μm | 0.01 |
| Oil content in air outlet | ppm | 0.01 |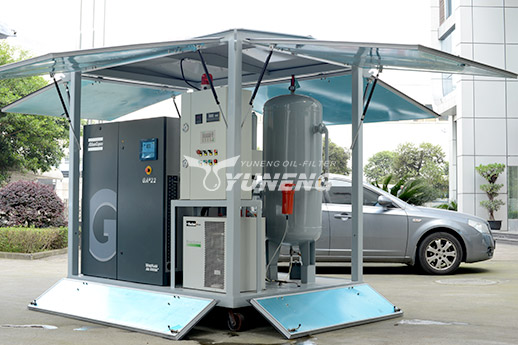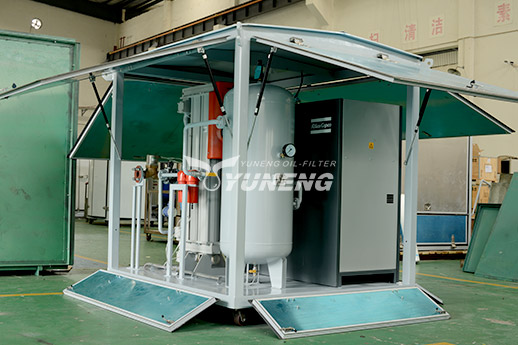 Why Choose Us?
Our products have a one-year guarantee for producing high quality(People-damaged components are charged).
Our products have lifelong upkeep and spare parts supply.
We accept freely design customized products according to customer requirements.
We provide free training on equipment installation and operating procedures for your employees in need.
Packaging & Shipping
To be packed in iron or wooden case(s) for long-distance (ocean/air) transportation