SF6 Gas Reclaiming Machine
YUNENG SF6 gas reclaiming machine can be used to suck, liquefy and store SF6 gas from the insulating equipment.
The quality of the retrieved SF6 gas complies with the Chinese GB8905-88 standard.
Equipped with flexible pies and joints for retrieving, storing, and refilling processes.
Adopts advanced principles and technologies of foreign companies, with advanced design, complete functions, reasonable structure, and simple and clear operation.
Share to
SF6 Gas Reclamation Machine Specification
Type
High pressure liquefaction, air cool, mobile

Working Environmental Temperature

-10

℃

~ 40

℃

Recovery

Initial pressure

0.8

Final pressure (MPa)

≤0.05

Time to recover 1m3 gas(h/m)

≤0.5

Filling

Initial pressure

≤133

Final pressure (MPa)

0.8

Time to recover 1m3 gas(h/m)

≤0.5

Time for pumping vacuum from 0.1Mpa to 133Pa(h/m)

≤1

Limit vacuum (Pa)

≤10

Gas purity after recovery SF6 (50KGS)

Water content(PPM/V)

≤60

Oil content (PPM/W)

≤5

Dust(Micron

)

≤1

Storing Tank

Storage method

Liquid gas

Pressure (MPa)

≤5.0

Volume (L)

300

Liquid volume(Kg)

280

Liquefaction method

High pressure liquefaction

Vaporization method

Heating with electricity

Dry filter regeneration

Vacuum heating re-activated

Power

380V 50Hz 3 Phase 4 Wire (based on your requirement)

Overall dimension

mm

1600*1000*1900 (including the storing tank)

1600*1000*1200 (without the storing tank)

Total power (KW)

≤8
The machine size, weight will change slightly due to different configurations.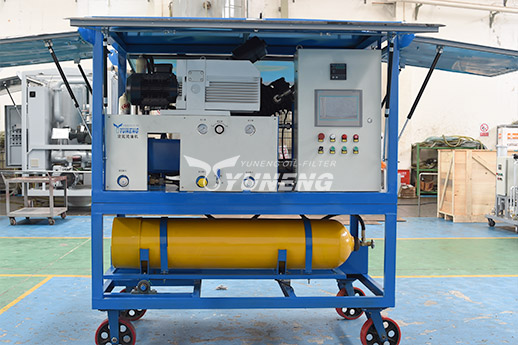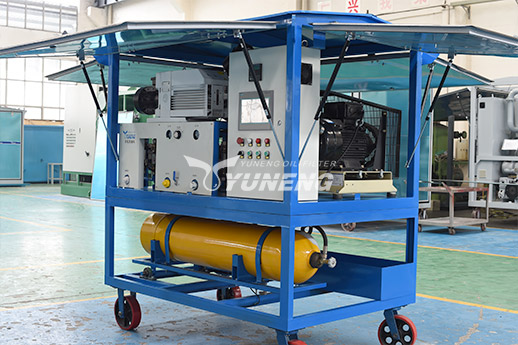 Why We Need SF6 Gas Reclaiming Machine?
The YUNENG SF6 gas reclamation device is modern in design, fully functional, well-structured, and easy to operate.
Its compression system uses a two-stage compressor, employing foreign technology to directly compress SF6 gas into storage tanks for oil-free and rapid recycling.
This device utilizes a two-stage rotary vane vacuum pump with quick vacuuming and an oil return system.
It has a recovery pressurization system that employs a single-stage rotary vane pump for high-speed recovery at low residual pressure.
The machine features an advanced filter from the American Pinel Company. It includes built-in vacuum electric heating and high-efficiency adsorbent, ensuring exceptional purification without frequent adsorbent changes.
The electrical system automatically confirms and adjusts to a three-phase power supply.
Its control system incorporates the latest patented SF6 special valve, offering higher reliability than similar foreign ball valves.
The storage system is customizable with various liquid storage tank specifications to meet user requirements.
The SF6 gas recovery unit is air-cooled and mobile, operating without the need for an external water source.
After-Sales Service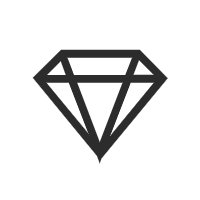 1-year guarantee for producing high quality(People-damaged components are charged).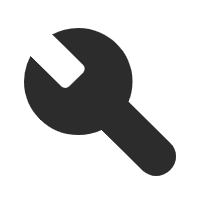 Lifelong upkeep and spare parts supply.

Freely design customized products according to customer requirements.

Free training on equipment installation and operating procedures for your employees in need.